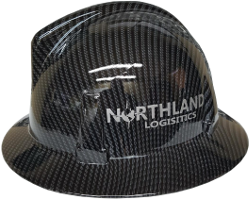 Our fleet of double drop trombone trailers and step deck trombone trailers can handle all your tall and long loads with ease
Northland Logistics Corp. can handle transporting oversized shipments that require more specialized handling. We provide double drop trombone trailers and step deck trailers that can be used for high or oversized shipping requirements as well as specially designed portable loading ramps that allows us to ship wheeled vehicles.

Our team of experienced contractors knows the critical requirements for safe and secure transportation with our specialized double drop trombone trailers and step deck trombone trailers. When it's oversized, our team of experts are ready to map out the route and provide the required permits to move your shipment safely and on time.
Double Drop Trombone Trailers
The double drop trailers can extend to nearly 50 feet in the lower deck.
This allows you to have your overheight and overlength loads hauled on a deck that is only 18 inches off the ground so they can be transported in the lowest ride possible under overhead powerlines and structures.
Double drop trailers also have removable necks.
This allows your wheeled and tracked equipment to be loaded over the front of these low ride trailers making loading and unloading very safe for your top heavy equipment. The double drop trombone trailers are very versatile trailers and can scale loads up to
55 metric tonnes.
Step Deck Trombone Trailers
Step Deck Trailers are designed to haul freight that cannot be transported on a standard flatbed, because of height restrictions along the transport route. Step deck trailers are rated for
60 metric tonnes and will extend bottom deck to nearly 60 feet with a ride height of 32 inches.
These trailers can support large skid less structures and easily adjust to any length required. Our modern fleet of trombone trailers are equipped for boosters and jeeps to help you get your load were you want it no matter what the season.
Hiboy Trombone Trailers
Our fleet of hiboy trombone trailers have the capability to lengthen to 90 feet. This enables us to haul loads up to 110 feet in length, weigh as much as 35,000kg.
Northland Logistics Corp. has the expertise and experience to cover all of your oversized tall and long loads with our fleet of trombone trailers. For questions, trucking quotes, and service please contact us.
See our Services
Contact Us